The After Hours Clinic is available for patients of the East Elgin Family Health Team (Drs Fernando, Graham, Howe, Taylor, Tokarewicz, Toogood or Nurse Practitioners Tracy Nancekivell and Janet Froud).
The After Hours Clinic will be closed through the week nights, effective Monday, March 30, 2020. It will be open on Saturday mornings from 9:00 am – 11:30 am. Patients should call during the day (Monday to Friday) to book an appointment for Saturday. Bring your cell phone with you as you will be required to call in to reception to be screened prior to gaining access to the clinic. The number is 519-773-3715.
Please help us inform our community and spread the word about this change.
Urgent Minor Clinical Care
The After Hours Clinic is available for acute minor illness that can not wait until you can see your regular primary care provider:
UTI/bladder infection
Sore throats, colds, coughs, ear infections
Rashes
Fevers
Emergency Care
The After Hours Clinic is not equipped to manage serious illnesses or accidents. Please call 911 or proceed to the nearest Emergency Room for the following:
Chest pain/shortness of breath
Possible stroke
Eye injuries
Lacerations requiring stitches
Broken bones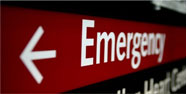 Regular Clinical Care
The After Hours Clinic does not replace regular care with your usual primary care provider. Please call and book a daytime appointment for the following:
Physicals/drivers/school medicals
Chronic disease management
Prescription refills
Forms including WSIB